(1500m - 3330m)
Verbier is a large high mileage resort which is part of the 4 Valleys network with a skiable area of 410kms. The resort will appeal typically to those of advanced ability seeking tough runs and in particular off piste. In fact it's the lift served off piste runs that attract so many to this resort. Its height is also appealing rising to 3330m ensuring that it's reasonably snow sure. For the rest of us and particularly those who are a little less adventurous Verbier may be a bit overwhelming. That's not so say there aren't any long easy cruisey runs, there are, but just not very many.
Great for…
Apres-ski
Off-piste
Advanced
Resort at a glance
| | |
| --- | --- |
| ★★ | Beginner |
| ★★★★ | Intermediate |
| ★★★★★ | Advanced |
| ★★★★★ | Off-Piste |
| ★★★★ | Snowboarding |
| ★★★★ | Snow Reliability |
| ★★★★ | Extent |
| ★★★★★ | Apres-Ski |
| ★★★ | Mountain Restaurants |
| ★★★★ | Scenery |
| ★★★ | Village Charm |
| ★★★ | Non-Skiers |
| | |
| --- | --- |
| Ski Lifts | 27 |
| Resort Altitude | 1500m |
| Pistes | 100kms |
| Ski Range | 1500m – 3330m |
| Green Runs | – |
| Blue Runs | 35 |
| Red Runs | 55 |
| Black Runs | 10 |
The Slopes
From the village of Verbier there are 3 distinct areas that can be accessed directly. Firstly there is the Savoleyres sector that is generally quiet and under used. Here you will find some great long cruisey runs. The front side of this area has predominantly blue runs whilst those looking for a bit more of a challenge will enjoy the long red runs leading down to La Tzoumaz.
From the other side of Verbier the Le Chable cable car takes you over to the Bruson sector. From the cable car you will need to take a short bus ride and a couple more lifts but it's worth the struggle particularly if you are into your tree skiing. Once again this is a quite often underused area and you will find at least a half days enjoyment here.
Finally from the village the Medran 1&2 gondolas take you to Les Runettes, the heart of Verbier's main ski area. From here there are good intermediate runs that lead directly back to the village. However from Les Runettes you can also access the La Chaux sector or Attelas area. At Le Chaux the runs are of varying difficulty that lead back down to Les Runettes, which intermediates will enjoy.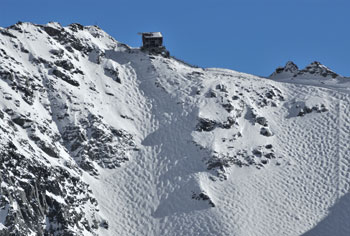 From La Chaux those looking for a serious challenge should take the Jumbo cable car to Col des Gentiannes and then the next cable car to Mont-Fort. Here there is a long black run that is steep and mogulled. From Col des Gentaines a long red run connects back with La Chaux.
Back at Les Ruinettes the area of Attelas can be reached. At Attelas there are a variety of runs including blue, red and black but the main attraction here is to take the Mont-Gele cable car to Mont-Gele. Here there are several runs that are called itineraries, which generally means that it is an off piste area that isn't patrolled.
From Attelas (via Chassoure) or from Col des Gentianes, Tortin can be reached either by skiing itineraries or by taking lifts. From Tortin a blue run takes you to the next sector of Siviez. From here several outlying villages can be reached and are well worth a visit. Firstly the slope of Nendaz can be accessed however this does unfortunately rely on skiing a black run to get to them. Once in Nendaz you will find enjoyable slopes to suit all abilities. Also from Siviez skiing predominantly red runs you can reach the Thyon sector. Here the slopes are a mixture of blue and red runs as well as a couple of nursery / beginner slopes. From Thyon lift served slopes access the nearby villages of Les Masses, Les Collons, Mayens-de-L'Ours and Veysonnaz.
There is no doubt that the skiing in Verbier favors the less timid and that getting from one area to another may involve negotiating some tricky slopes. However for those prepared to push themselves and take on the numerous challenges Verbier has to offer, there's not many places better than this.
---
Apres-Ski
Verbier is a real highlight when it comes to apres ski, there are loads of places to visit and it has something for everyone.
The chic Nevai Bar has a huge range of champagnes and cocktails to whet your appetite, as does the King's Bar in the King's Parc Hotel along with spirits, wine and good music. Le Rouge Club is also good for drinks and gets very busy at weekends.
Crok No Name Bar also has great music, a wide range of wines, cocktails, beers and also Long Island Ice Tea, yum! Fer à Cheval is another good spot, as is Le 71 Point Bar. The Farinet Hotel has both the Après Ski bar (previously voted by 'Which' magazine the Best Après Ski Bar Worldwide) and the Lounge Bar with its delicious drinks and tasty 'bento boxes'.
For sports fans there is the Central T-bar or Pub Mont Fort who both show live games on large TV screens. There are also a few nightclubs in Verbier such as the Casbah in the Farinet Hotel, the members upper class Coco Club, the expensive Farm Club and the smaller, more mellow Coup d'État.
For something far more sedate then why not try the Chez Kamel or Milk Bar for coffee, hot chocolate and cakes or the funky Offshore Cafe.
---
Eating Out
Verbier has a free pocket guide highlighting its restaurants so try and pick up a copy, there is a wide range of different cuisines on offer from traditional Swiss food, Italian and Asian, to gastro pub food and more gourmet options.
The stylish King's Restaurant has a wide menu choice serving French Asian cuisine, including seafood and game, the Nevai again serves meats and fish but with an Asian Mediterranean twist, where the Illu Cuisine is more Asian fusion.
Local flavours can be found at Le Sonalon with its meats and fondue, the Vieux Verbier, The Rouge Restaurant or Relais des Neiges, the Ecurie is also very good.
Gourmet options are on offer at the 1 Michelin starred Chalet d'Adrien or the Pierroz restaurant in the Rosalp Hotel.
For something much further down the scale, you can find pizza at Al Capone's, Fer à Cheval and Borsalino or try Harold's for its range of hamburgers which you can munch whilst surfing the net. Or you could take a trip up the mountain via a snowmobile to La Marmotte for its tasty fondue.
---
Other Activities
Verbier certainly keep you busy if you are not on the slopes, you can try ice-skating and ice climbing, curling, snowshoeing, dog sledding, tobogganing, and even paragliding or hang gliding too.
For something a little quieter then the sports centre has a pool and range of saunas, hot tubs and solarium, or you could visit the nearby spa complex at Lavey les Bains. The Hotel Nevai also has a spa with steam rooms, saunas, treatments and massages on offer.
Verbier also hosts the freeriders O'Neill Xtreme by Swatch competition and also the Glacier Patrol competition too.
---
Ski School
There are quite a few schools in Verbier to choose from offering skiing and boarding tuition, also off piste and moguls, carving and freestyle too.
One such school is the English run European Snowsport, group lessons start from CHF 410 for 5 days with 3 hours tuition per day or CHF 100 for half a days tuition, private lessons start from CHF 250 for 2 hours.
Another good school is New Generation, group lessons start from CHF 350, again for 5 days with 3 hours tuition per day, with private lessons starting at CHF 245 for 2 hours.
There is also the Altitude Ski School, group lessons start from CHF 350 for 5 half days and private lessons start from CHF 225 for 2 hours.
Where to stay in Verbier, Switzerland