(1800m - 3082m)
Set at the end of the Otz valley Obergurgl and Hochgurgl are famed for being some of Austria's best snow sure resorts. The reason for this is its height with slopes reaching just over 3000m. Obergurgl and Hochgurgl are linked to one another via the Top Express gondola giving you two separate ski areas to explore.
Great for…
Snow sure
Apres-ski
Beginners
Resort at a glance
| | |
| --- | --- |
| ★★★★ | Beginner |
| ★★★ | Intermediate |
| ★★ | Advanced |
| ★★ | Off-Piste |
| ★★★ | Snowboarding |
| ★★★★★ | Snow Reliability |
| ★★ | Extent |
| ★★★★ | Apres-Ski |
| ★★★ | Mountain Restaurants |
| ★★★ | Scenery |
| ★★★ | Village Charm |
| ★★ | Non-Skiers |
| | |
| --- | --- |
| Ski Lifts | 24 |
| Resort Altitude | 1930m Obergurgl, 2150m Hochgurgl |
| Pistes | 110kms |
| Ski Range | 1800m – 3082m |
| Green Runs | – |
| Blue Runs | 16 |
| Red Runs | 18 |
| Black Runs | 6 |
| | |
| --- | --- |
| Local Lift Pass | €257 – €285 (6 days) |
| Area Lift Pass | – |
| Transfer Time | Innsbruck 1hr 30mins |
| Transfer Day | Saturday |
| Tourist Board | Website |
| Weather | Snow Report |
| Webcam | Webcam |
| Piste Map | Piste Map |
The Slopes
Obergurgl and Hochgurgl have 110km of slopes to explore. The Obergurgl ski area is equally divided between 2 sectors - Festkogel and Gaisberg. Obergurgl's slopes are generally aimed at the intermediate skier with several long cruising blue and red runs on the Festkogel section.
The Gaisberg section presents more of a challenge for strong intermediates and has a small tree lined area to head for if the weather closes in. Experts will find little to challenge them in Obergurgl with the odd few black runs being short and not particularly challenging. Beginners are well catered for with a beginners' area at the bottom of each section. There are then some easy long runs under the Hohe Mutt Bahn I gondola for them to progress on to.
Depending on where you are staying in the village the Festkogl section is reached by either the Festkoglbahn or the 2 stage Roβkarbahn. The Plattachbahn then takes you further on up to the top of the Festkogl section where the best snow is usually found. The Gaisberg section is reached by the Hohe Mutt Bahn I with the Hohe Mutt Bahn II completing the rest of the journey to the top of the Gaisberg section. All lifts are quick which results in very few queues developing even at peak times.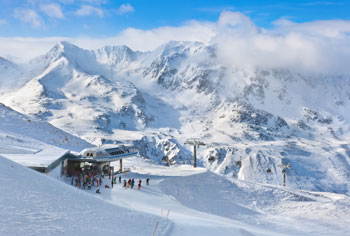 Hochgurgl is linked to Obergurgl via the Top Express gondola but also has its own ski area. It is a tiny village which is almost entirely made up of a few hotels. From Hochgurgl there are several quick lifts that take you up to a network of almost exclusively blue runs which are ideal for the beginner or timid intermediate who is looking to progress from the nursery slopes.
The runs at the top of Hochgurgl in the Wurmkogl sector are certainly more challenging, however there is not enough to keep mile hungry intermediates or experts happy for more than a day or so. A visit to the Top Mountain Star Hut at the top of Wurmkogl is a must for the simply fantastic views. Wrap up warm however because at 3082m it can be mightily chilly up there.
---
Apres-Ski
Like many Austrian resorts apres ski focuses around several bars and huts at the end of the days skiing.
With regular live music and good food the legendary Nederhutte (half way up the Gaisberg section) is often crammed with party goers from mid afternoon so get there early if you want a seat. Just remember though you need to ski back from the Nederhutte! Apres ski in the evening quietens down with much of it focused in and around the local hotels. However the Josl Keller and The Fassl bar (aka the barrel bar) will satisfy those who wish to party on later. Apres ski in Hochgurgl is very quiet and revolves almost entirely within the hotel bars.
---
Eating Out
There is a variety of places to eat out in Obergurgl however many of the best restaurants are confined to the hotels such as the Hotel Josl and the Hotel Edleweiss & Gurgl.
For non hotel based food options head for either the Downtown Grill which specialises in steaks and regional cuisine or the Pic Nic restaurant which has both Austrian and Italian food on its menu. In Hochgurgl finding a place to eat out inevitably involves choosing from one of the hotel restaurants.
---
Other Activities
There are a number of activities to get involved in during the evenings such as ice skating and curling at the Hotel Enzian and bowling at the Hotel Alpenland's 2 bowling alleys.
For those who want a bit more action there is a 3km night toboggan run in Hochgurgl and during the day for non-skiers there is the option to go horse riding at the Hotel Edleweiss & Gurgl's riding arena. Finally for the golfers amongst you there is an indoor golf park at the Hotel Riml in Hochgurgl which consists of 7 indoor golf simulators and a 200 metres square indoor putting green.
---
Ski School
The Obergurgl Ski School offers a full range of group and private lessons. For adults there are 2 ski school meeting points conveniently positioned at the Hotel Jenewein at the Gaisberg lift or the Pirchhutt behind the Hotel Hochfirst. Group skiing lessons are full days with the morning session from 0945 - 1200 and the afternoon session from 1330 – 1530 and cost from €65 for 1 day to €233 for 6 days tuition. For group lessons there must be a minimum of 4 people and they run from Sunday to Friday. Beginners must enrol either on Sunday or Monday, whereas advanced skiers can join group lessons on any day of the week.
Private lessons can be booked for between 2-6 hours and prices range from €146 - €345 respectively with each additional person added to the lesson costing between €10 and €25.
For children who are complete beginners they can be enrolled into Bobo's Mini Club, the meeting point being beside the Hotel Wiesenthal. Kids that are more advanced can be booked into the kids ski school which again involves full day tuition and meets at the Hotel Jenewein 0945 and 1325.
The Hochgurgl Ski School operates from Sunday to Friday with beginners having to start on the Sunday. The ski school meeting point is at the Krumpwasser lift and lesson are 4 hours in duration and run from 1000-1200 and from 1400-1600. They cost from €65 for 1 day to €233 for 6 days tuition. Private lessons can be booked for ½ a day or a full day and cost €145 - €249 respectively for single lessons, with each additional person added to the lesson costing between €10 and €20. Day-care for children can also be booked.
Where to stay in Obergurgl & Hochgurgl, Austria