(1815m - 2800m)
Set in an isolated bleak valley Livigno may not be everyone's first choice on their list of places to visit. However ignore the setting and there is a lot to be said for this resort which is at decent altitude, snow sure, beginner friendly and above all else very good value. Just be aware however that due to its location transfers from the airport are long, very long, between 4 and 5 hours isn't uncommon.
Great for…
Snow sure
Apres-ski
Intermediates
Resort at a glance
| | |
| --- | --- |
| ★★★★ | Beginner |
| ★★★★ | Intermediate |
| ★★★ | Advanced |
| ★★ | Off-Piste |
| ★★★★ | Snowboarding |
| ★★★★ | Snow Reliability |
| ★★ | Extent |
| ★★★★ | Apres-Ski |
| ★★★ | Mountain Restaurants |
| ★★★ | Scenery |
| ★★★ | Village Charm |
| ★★★★ | Non-Skiers |
| | |
| --- | --- |
| Ski Lifts | 30 |
| Resort Altitude | 1815m |
| Pistes | 115kms |
| Ski Range | 1815m – 2800m |
| Green Runs | – |
| Blue Runs | 29 |
| Red Runs | 37 |
| Black Runs | 12 |
| | |
| --- | --- |
| Local Lift Pass | Off peak €134.50, peak €207.50 |
| Area Lift Pass | – |
| Transfer Time | Innsbruck 2hrs 45mins |
| Transfer Day | Saturday |
| Tourist Board | Website |
| Weather | Snow Report |
| Webcam | Webcam |
| Piste Map | Piste Map |
The Slopes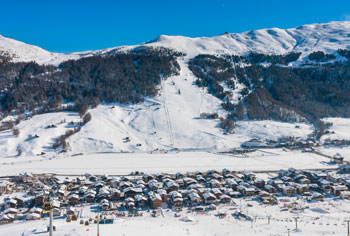 Livigno's slopes are set in a valley with runs facing both east and west. The western facing slopes comprise of two areas Costaccia and Carosello. At the foot of these slopes along the valley floor are numerous small blue runs and nursery slopes which makes Livigno an excellent place for beginners and novices.
From the southern end of the village the Carosello 3000 gondola takes you to the area of Carosello. At Carosello there are numerous short red runs served by several chair lifts. Most of these runs then converge into several longer red runs taking you all the way back down to the village. Ski these red runs from top to bottom and you will get some decent mileage.
At the top of Carosello a boring long blue run takes you to the area of Costaccia. This area can also be accessed from the northern end of the valley via a gondola which takes you half way up the mountain to several red runs and the odd blue and black. From here a chair then goes to the top of this area accessing several lovely long blue runs. Finally at the top of the Costaccia area the Carosello area can be accessed via a short red run.
On the eastern side of the valley the slopes in the Mottolino area tend to be that bit more challenging and good intermediates will want to make their way there. Mottolino is best accessed via gondola at the northern end of the town. From here several blue and red runs descend back into the valley and some red runs on the backside of the mountain can also be reached. There is also a long chair that runs along the top of the ridge that accesses several harder red and black runs. The black runs are not the hardest but do provide the most challenging terrain in the area.
---
Apres-Ski
Livigno has more bars than any other ski resort in the world which would lead you to believe that the apres ski would be one long non stop party.
In actual fact, whilst it can be lively, it's far quieter than some people would expect and doesn't touch St Anton for that title. That said, there is a huge choice of venues for apres ski and since the town is tax free then the bars all serve alcohol at far lower prices than you'd find in other ski resorts and there really is something to suit all tastes.
Things start to get going around 5pm but many bars don't really liven up until after dinner. There are plenty of fun pubs and lively haunts to choose from. If music is your thing then check out the Kuhstall in the Hotel Bivo - a cellar bar with live music, karaoke can be found in Bivio or you can have a boogie in Cielo or Kokodi.
There are some fun pubs to visit including a huge selection of spirits and beers at Gullivers, Guinness at Daphnes and don't miss the microbrewery beers at The Echo - Europe's highest brewery. There is also the great Stalet Bar and Tea del Vidal if you are looking for something lively and Jpioca for some fantastic cocktails.
---
Eating Out
There are a huge number of restaurants to try in Livigno - everything from traditional Italian local cuisine, pizzas, pastas, through to more upmarket options. Most are very competitively priced than elsewhere due to Livigno being tax free.
Many are small family run restaurants but there are also some good hotel based ones too. You can often find fixed price menus too, but the resort as a whole isn't expensive to eat out in.
More formal, upmarket options include La Pioda, Chalet Mattia and the tempting Hotel Concordia - one of the best restaurants in Livigno. Bellavista does excellent bistro style food, Garden does delicious steaks and if you are looking for something cheaper still then there are plenty of pizza and pasta options such as Ristorante la Pòsa and La Rusticana - both highly regarded and there is also the Ristorante il Cantuccio and Grolla too.
---
Other Activities
There is a host of things to occupy you in Livigno whether you are looking for something indoors or outdoors. Shopping is big here, there is extensive duty free shopping at over 200 shops so it's a great place to pick up a bargain.
If pampering is your thing then most hotels do have spa or wellness facilities but there is also the sumptuous Bagni di Bormio spa and wellness centre and the Aquagranda Wellness Park - both offering a range of treatments and pampering options along with pools galore.
For something more lively then there are plenty of outdoor options such as the traditional dog sledding, tobogganing, snowmobiling and snowshoeing, there is also ice skating and ice climbing for the brave of heart or even ice driving on Livigno's frozen lake.
You also have the option of taking a trip to nearby Bormio and fashionable St Moritz which is just across the border in Switzerland, who could ask for more!
---
Ski School
There are a number of different ski schools in Livigno offering tuition such as the Centrale Ski and Snowboard School, they offer ski and boarding lessons for all abilities and ages. Group lessons start from €105 for 6 days with 2 hours per day, private lessons start from €36 per hour. Check their meeting point on booking as they have several.
The Galli Fedele Ski School again offers tuition in both skiing and boarding, group lessons start from €135 for 6 days with 2 hours per day, private lessons start from €40 per hour. Check their meeting point on booking as they have several.
There is also the New Ski School offering skiing and boarding lessons. Group lessons start from €115 for 6 days with 2 and a half hours per day, private lessons start from €35 per hour. Check their meeting point on booking.
Where to stay in Livigno, Italy