(934m - 3342m)
Part of the huge world famous Sella Ronda circuit (offering 1200 kms of slopes) and set amongst breathtaking scenery in the Dolomites, Selva Val Gardena is a world class ski resort that provides great skiing for all levels and abilities. Couple this with consistent snowfalls, 175km of local pistes and links to two other village resorts (St Cristina and Ortisei), Selva Val Gardena should be given serious consideration when choosing your next ski holiday.
Great for…
Extensive area
Intermediates
Scenic
Resort at a glance
| | |
| --- | --- |
| ★★★★ | Beginner |
| ★★★★★ | Intermediate |
| ★★★★ | Advanced |
| ★★★ | Off-Piste |
| ★★★ | Snowboarding |
| ★★★★ | Snow Reliability |
| ★★★★★ | Extent |
| ★★★ | Apres-Ski |
| ★★★ | Mountain Restaurants |
| ★★★★ | Scenery |
| ★★★ | Village Charm |
| ★★★ | Non-Skiers |
| | |
| --- | --- |
| Ski Lifts | 79 |
| Resort Altitude | 1563m |
| Pistes | 175kms |
| Ski Range | 934m – 3342m |
| Green Runs | – |
| Blue Runs | 32 |
| Red Runs | 23 |
| Black Runs | 4 |
| | |
| --- | --- |
| Local Lift Pass | Off peak €206, peak €234 |
| Area Lift Pass | Off peak €223, peak €254 |
| Transfer Time | Innsbruck 1hr 45mins, Verona 2hrs 30mins |
| Transfer Day | Saturday |
| Tourist Board | Website |
| Weather | Snow Report |
| Webcam | Webcam |
| Piste Map | Piste Map |
The Slopes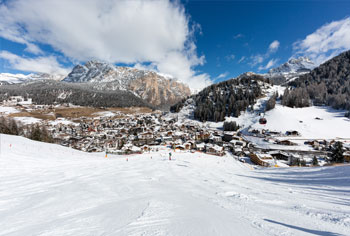 Selva Val Gardena gives direct access to the Sella Ronda which is a huge skiing circuit located in the Italian Dolomites that can be skied either clockwise or anti-clockwise. Selva Val Gardena itself has 175km of pistes and access to them is directly from the village. The Dantercepies gondola accesses the Dantercepies area and here you with find long red runs ideally suited to the adventurous intermediate skier. There is also the odd black run, several blue runs and a couple of excellent nursery slopes at the bottom. The Dantercepies area is also the access point to pick up the Sella Ronda should you wish to tackle it in the clockwise direction.
From the other side of the village the Ciampinoi gondola accesses the Ciampinoi sector which again has a series of red and black runs which timid intermediates may find challenging. A red run from the Ciampinoi area, takes you to Plan de Gralba which has runs far more suited to the less adventurous and blue runs which are ideal for those fresh from the nursery slopes to progress on to. However in order get to Plan de Gralba from Ciampinoi a red run must be skied.  For those not wishing to ski to this area via a red run, a bus from Selva Val Gardena can be taken. From Plan de Gralba the anti-clockwise circuit of the Sella Ronda can be accessed.
From Ciampinoi intermediates can ski down to the next village along in the valley which is St Cristina. From here the Seceda area can be accessed, which generally has good snow and a mixture of fairly long long blue and red runs. From Seceda a red run takes you back down to St Cristina, whilst another red run (or series of lifts if you prefer) take you to Ortisei. Here at Orisei is the Alpe di Siusi area which has a considerable number of short blue and red runs that are great also for those straight from the nursery slopes, or those intermediates lacking in confidence.
Selva Val Gardena has skiing to suit all levels and its access to the Sella Ronda means that your will never be bored and tire of the local slopes. The only thing to bear in mind though is that beginners may have to take several red runs to access these areas and the best that Selva Val Gardena / the Sella Ronda has to offer unless they are happy to take a local ski bus instead.
---
Apres-Ski
Selva Val Gardena has a thriving, lively apres ski scene which starts on the mountain and then flows down in to the resort, it does have a Tirolean feel to it - this area used to be part of Austria so the history and culture remain and German is actually spoken more than Italian here.
Many bars have live music or resident DJs, venues worth visiting for live music are Bar La Stua and La Bula, where DJs can be found in Bar Luislkeller, Bar Laurinkeller and Pra Valentini. Piz Seteur is also very jolly with more traditional music and Heustadl and Dali are a couple of the resident nightclubs if you are looking to party until the early hours.
For something more refined there is Yello's or Cafè Saltos offering cocktails or the Tyrolean wine bar of Nives which also has some delicious snacks too. The there is the tempting and delicious Cafe Mozart selling sumptuous hot chocolate and cakes.
---
Eating Out
Selva Val Gardena has a wide range of restaurants that offer both Austrian and Italian dishes, the quality is very good and many are great value too.
There is of course the usual Italian dishes of pizza and pasta on offer, places like The Bula, Rino and Bellavista cover these very well. Also worth visiting are the Nives, Speckkeller and Emilio Comici.
There are more refined options too serving a range of Tirolean dishes such as the Costabella, Hotel Oswald serves gourmet food and wine and The Granvara Hotel does a 5 course gourmet dinner. Down in Ortisei there is the Tubladl serving traditional cuisine and the Michelin starred Anna Stuben in the Hotel Gardena.
---
Other Activities
There is a host of different things to do in Selva Val Gardena, the village has a traditional charm with plenty of shops where you can buy the local wood carvings that this area is famed for.
There is also a sports centre and museum to visit, along with bowling, sleigh rides, ice skating and climbing, snow shoeing, a toboggan and of course heli skiing.
There is also a hot spring pool in Ortisei and a number of wellness hotels in the region such as The Vitalpina Hotel Dosses offering massages, a Finnish Sauna, and herbal steam baths, The Hotel Cacciatore with a large wellness area, again with a Finnish sauna and hot tubs and of course The Residence Villa Leck with a sauna, multiple pools, steam rooms and solariums to pamper you.
---
Ski School
There are a number of schools in Selva Val Gardena, all offering a range of tuition to all ages and abilities of both skiing and snowboarding with everything from carving lessons to competition training and guiding trips too.
The Ski School of Selva has group lessons starting from €166 for 6 days and private lessons from €35 per hour. Do check their meeting point on booking as they have several. They also do competition training too.
There is also the Ski and Snowboard School 2000, group lessons start from €161 for 6 days with 18 hours tuition and private lessons from €35 per hour, they also do freestyle and freeride tuition too. Do check their meeting point on booking.
Then there is the Top Ski School, group lessons start from €198 for 6 days with 22 hours tuition and private lessons from €35 per hour, they also do special assistance tuition too. Do check their meeting point on booking.
Where to stay in Selva Val Gardena, Italy