(1650m - 3568m)
Les Deux Alpes is one of France's best and most well known resorts. It has a lot going for it including, reliable snow, gentle glacier slopes, excellent beginners' terrain, decent lifts and some real hair raising stuff for those wanting a challenge. The village doesn't disappoint either, especially if you are after some wild apres ski in addition to skiing. However Les Deux Alpes does have it's drawbacks, most notably the erratic piste classification.
Great for…
Snow sure
Off-piste
Snowboarding
Resort at a glance
| | |
| --- | --- |
| ★★★★ | Beginner |
| ★★★★ | Intermediate |
| ★★★★ | Advanced |
| ★★★★★ | Off-Piste |
| ★★★★★ | Snowboarding |
| ★★★★★ | Snow Reliability |
| ★★★★ | Extent |
| ★★★★ | Apres-Ski |
| ★★★ | Mountain Restaurants |
| ★★★ | Scenery |
| ★★ | Village Charm |
| ★★ | Non-Skiers |
| | |
| --- | --- |
| Ski Lifts | 53 |
| Resort Altitude | 1650m |
| Pistes | 223kms |
| Ski Range | 1650m – 3568m |
| Green Runs | 19 |
| Blue Runs | 42 |
| Red Runs | 21 |
| Black Runs | 11 |
| | |
| --- | --- |
| Local Lift Pass | €211 |
| Area Lift Pass | – |
| Transfer Time | Grenoble 2hrs 15mins, Chambery 2hrs 30mins, Geneva 3hrs 45mins |
| Transfer Day | Saturday |
| Tourist Board | Website |
| Weather | Snow Report |
| Webcam | Webcam |
| Piste Map | Piste Map |
The Slopes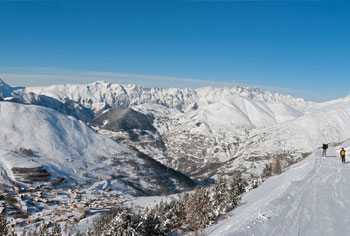 Les Deux Alpes comprises of 6 main areas which are: Cretes, Diable, Toura, La Fee, the Glacier and on the opposite side of the valley a smaller area called Pied Moutet. One of the best features of Les Deux Alpes is that wherever your accommodation is you will not be too far from a lift as access to the mountain can be gained via a number of different chair lifts and gondolas that are located along the length of the village.
Whilst Les Deux Alpes is noted for its rather steep terrain there are a number of perfectly located nursery slopes situated at the base of the resort. The nursery runs are short, wide and of a very gentle gradient. Combine this with the fact that the ski schools meet here as well you can be sure that those first timers new to skiing are very well catered for.
Cretes is an area that consists of short green runs such as Vallons 1 and Petit Cretes that are only slightly steeper than those of the nursery slopes giving beginners a great area to progress on to. There are also a few easy blue runs to tackle in this area to progress on to. However the green run that heads back to the village is tricky and can be dangerously crowded at the end of the day, therefore the lift is the best option.
The Area of Diable can be reached either from the Diable gondola at the far end of the village or by the Cretes gondola. Here the terrain becomes much more challenging with the blue run Super Diable 1 and the red runs Vallons 2 and Vallons 3 providing much more of a test. For those seeking a greater challenge the black Diable 1 run takes you right back down to the village.
From Cretes a gondola or cable car takes you up into the heart of Les Deux Alpes to the areas of Toura and La Fee. Here the terrain becomes increasingly more difficult comprising almost exclusively of blue and red runs. The runs on Toura and La Fee ideally suit competent intermediates as many of the blues here would most certainly be classified as red runs in other resorts. The runs at Toura are generally shorter than those on La Fee and the blue runs of Toura 1, Lac Noir 1 and Lac Noir 2 provide some excellent skiing. In the Toura area there is also a world class snow park and for the adventurous a Boardercross and a Freecross run that are really good fun – but often crowded.
La Fee is generally quieter than Toura and the runs longer. There is a mixture of blue, red and black runs here all aptly named Fee 1-5. Depending on your ability there is something here to suit all intermediates but once again remember that piste classification does tend to underestimate difficulty.
From Toura the Jandri Express 2 gondola takes you up to the glacier where the best snow is found. The runs on the glacier are gentle and this is an area where near beginners will feel at home. From the top of the glacier those wanting more of a challenge should head for the red Signal 4 run that then joins the blue signal 2 run. For the ultimate challenge the neighbouring resort of La Grave – world famous for its off piste can be accessed from the top of the glacier. Be warned though, La Grave is for experts only and you should never attempt to go there alone.
Finally an often over-looked area is that of Pied Moutet. Here the blue and red runs are short but generally quiet and certainly worth a look if you have skied the rest of the mountain.
---
Apres-Ski
Les Deux Alpes has a wide selection of apres ski options to choose from with over 30 bars and several nightclubs, the resort can get very lively and apres ski starts early and finishes late, there really is something for everyone here.
Lively venues include Smithy's Tavern, Mike's Bar and Secrets, the Polar Bear Pub is also worth visiting as is Crepes a Gogo. Live sports can be found showing at Smokey Joe's, The Red Frog and La Grotte du Yeti. Pub le Windsor is a bit quieter as is Tribeca's, also don't miss The Lounge, Boom Boom or Corrigan's Pub.
There are a few nightclubs in town if you fancy a boogie such as Avalanche, l'Opera and of course Bresilien.
---
Eating Out
Les Deux Alps has an excellent range of restaurants serving up everything from traditional local cuisine, Italian, Tex Mex and much more, you can even hike up to a mountain restaurant for dinner if you still have the energy at the end of the day.
Creperies are big in Les Deux Alps, some serve just pancakes, others do a full range of local cuisine too - check out Crepes a Go Go, Crêperie Krampouz au soleil and Crêperie Les Sagnes to name but a few.
Pizza and more traditional Italian food can be found at Le Cret Italian, the Tribeca Café, La Spaghetteria and Etable. Regional specialities are on offer at Le Charbon de Bois with its extensive range of fondues and raclettes, Le Passe Montagne, La Grange, Le Blue Salmon and the Restaurant le Souleil'Or.
Smokey Joe's has Tex Mex with nachos, burgers and fajitas, Smithy's Tavern also does fajitas and burgers along with BBQ ribs and steaks. There are plenty of cheaper 'eat in' or 'take away' places too in resort such as Chalet à Pizza and Les Bleuets.
Then for something a bit different, and more expensive, try Le P'tit Polyte in the Chalet Mounier which is Michelin starred and serves modern French cuisine. It has set menus and is worth trying if your budget can stretch that far but you must book in advance.
---
Other Activities
Les Deux Alpes has quite a lot of activities to keep you occupied if you want a day off from the slopes. There is ice climbing, snow mobiling, tobogganing, paragliding, sleigh rides and you can even take a helicopter ride.
The nearby village of Venosc has plenty of boutiques, craft and souvenir shops and can be accessed by the gondola or is in walking distance if the weather is fine and Grenoble is within visiting distance.
There is the Acqua Centre which has a sauna, steam room, jacuzzi and indoor and heated outdoor pools. There is also the Aquaflorès Spa in the Chalet Mounier with pools, sauna, jacuzzi, massages and treatments.
For something more exhilarating then there is the White Cruise - a trip in a snowcat across the glacier to admire the views. You can also visit the glacier and its ice cave showing beautiful ice sculptures.
---
Ski School
There is a good selection of ski and snowboarding schools in Les Deux Alps offering tuition to all ages and abilities.
The local French ski school - the ESF has a good reputation, group lessons start from €146 for 5 half days or from €235 for 5 full days. Private lessons start from €43 per hour, they also offer tuition in skwal and telemark.
Evolution 2 also have a school here, group lessons start from €155 for 5 half days with private lessons starting from €42 per hour, they also offer freestyle and freeride tuition.
There is also the European Ski and Snowboard School who again offer group lessons starting from €160 for 6 half days with private lessons starting from €45 per hour but there is a minimum booking time of 2 hours, they also do freeride and freestyle tuition.
Where to stay in Les Deux Alpes, France