(700 - 2561m)
Flaine is one of France's premier resorts because of its excellent skiing facilities rather than its unique architecture. The village of Flaine lies at the bottom of a big wide open bowl that offers something for everyone. In addition to Flaine's slopes the nearby resorts of Samoens, Morillon and Les Carroz can be easily accessed making this a huge skiable area. Most of the accommodation is self catering apartments, and those looking for jolly apres ski and nightlife may be a tad disappointed.
Great for…
Snow sure
Beginners
Intermediates
Resort at a glance
| | |
| --- | --- |
| ★★★★★ | Beginner |
| ★★★★★ | Intermediate |
| ★★★★ | Advanced |
| ★★ | Off-Piste |
| ★★★★ | Snowboarding |
| ★★★★ | Snow Reliability |
| ★★★ | Extent |
| ★★ | Apres-Ski |
| ★★ | Mountain Restaurants |
| ★★★ | Scenery |
| ★★ | Village Charm |
| ★★ | Non-Skiers |
| | |
| --- | --- |
| Ski Lifts | 68 |
| Resort Altitude | 1600m |
| Pistes | 256kms |
| Ski Range | 700 – 2561m |
| Green Runs | 18 |
| Blue Runs | 66 |
| Red Runs | 46 |
| Black Runs | 14 |
The Slopes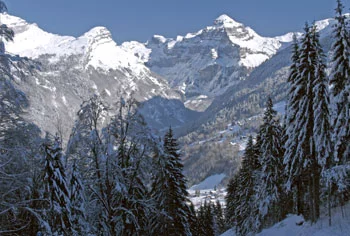 From the centre of Flaine the Grandes Plattieres gondola takes you up to the top of the bowl. At the top, proceed left onto the blue Serpentine run for some comfortable skiing where you can pick up other blue runs such as Belzebuth, Zeolite and Cristal which lead back to the Desert Blance chair which whisks you back to the top of the Les Grandes Plattieres.
Alternatively at the foot of the Desert Blanc chair several more blue runs take you back down to the village Also from the Serpentine run a huge 14km blue run, Les Cascades, runs all the way to a small village called Sixt where there is the opportunity to ski a few more runs. From Sixt you will need to catch the bus back to nearby Samoens.
Head in the opposite direction at the top of the bowl, by taking the red Mephisto Superieure run to find terrain that is a little more challenging. There are a large number of long reds in this area that will take you all the way back down to the village. However there are some blue runs further down such as Mephisto for those who don't want to ski red runs the whole way down. Alternatively the Tete des Verdes chair takes you half way up.
The nearby slopes of Samoens, Morillon, and Les Carroz are all extensive and should also be explored. Getting to them is not difficult. Just take the Grand Vans chair out of Flaine, and then ski the relevant blue to one of the three other resorts.
For beginners there are nursery slopes which are situated close to the village and nearby green and blue runs to progress on to.
---
Apres-Ski
As Flaine is a purpose built resort, nightlife is not really a highlight and there isn't a huge range of choices - most nightlife is within the hotel and apartment complexes but you can find a few places to explore.
Le White Pub is a popular choice, a large bar which also sells pub food located in Flaine Forum, it's known for its range of beers and whiskies, has a large TV and also plays rock music if that takes your fancy.
In Flaine Foret Le Flying Dutchman is another great place to visit - a Dutch pub with plenty of loud music, it does get lively fairly early on and also has karaoke and themed evenings. The Perdrix Noire is also worth a visit - it has an English pub atmosphere, whereas Le Diamond Noir has an Irish feel with plenty of Guinness available.
If you still have some energy left and dancing is your thing then there is one low key nightclub in Flaine Forum - Le Skifun, and the bowling alley bar in Flaine Foret is also popular as it stays open late and serves food until 3am.
---
Eating Out
Like the apres ski in Flaine, eating out choices are a bit limited, most available options are either traditional Savoyard or pizzerias.
For Savoyard specialities in Flaine Forum then try Chex Pierrot or Chez Daniel, Les Chalet du Michet is also worth a visit and is set within a 100 year old converted shepherd's hut, for pizza then Chez la Jeanne or Brasserie les Cimes are good options and Le Grain de Sel does fantastic pancakes.
In Flaine Foret there is the amazing La Perdrix Noire - the award wining 'Best Resort Restaurant 2008', it serves a range of specialities including seafood, grills, meat dishes along with cheese and meat fondues, yum! For something a little lighter then try The Sucre Sale - a Mediterranean inspired restaurant serving pitas, pizzas, salads and pastries.
---
Other Activities
Flaine itself was created in the 60s and has a 'Bauhaus feel' due to its architect - Marcel Breuer. There are also some outdoor sculptures by Picasso, Vasarely and Dubuffet - these are classed as being in an open-air museum, so if you appreciate modern art then this resort may appeal to you.
But if you are not in Flaine to ski or board then there isn't a huge range of activities to keep you occupied. There is of course the token fitness centre with sauna, solarium, spa and steam room, a sports centre with a pool and cinema, along with activities such as paragliding, helicopter rides, quad biking, ice skating and driving, dog sledding and snow mobiling to keep you busy.
There is also a cultural centre, with an art gallery and library, along with some themed weeks planned for outdoor enthusiasts. Themed weeks include a Speed Week which includes skiing, circuits, driving and quad biking, and a Freestyle Week which involves Boardercross, Big Air and Hip, as well as Big Air Bag contests at the Forum. There are also dog sledding, classical music and jazz events throughout the season.
---
Ski School
There are a number of ski schools serving Flaine including the ESF (Ecole du ski Francais) they offer ski and boarding lessons for both children and adults, group lessons cost from €138 for 5 half days with 3 hours per day, private lessons are from €43 an hour.
There is also the ESI (Ecole de Ski Internationale) which again offers ski and boarding lessons for both children and adults. Group lessons start from €149, depending on what time of season you go, for 6 days tuition with 3 hours per day, private lessons start from €41 an hour.
Where to stay in Flaine, France