(1350m - 2830m)
Serre Chevalier's slopes are located above villages from which the 4 main areas can be accessed. All the slopes are linked at altitude providing 250km of slopes for you to enjoy. Beginners, intermediates and experts, as well as those seeking off piste are well catered for with varied terrain. Finally Serre Chevalier slopes are heavily wooded making it an ideal place to ski when conditions or the light are poor.
Great for…
Snow sure
Off-piste
Intermediates
Resort at a glance
| | |
| --- | --- |
| ★★★★ | Beginner |
| ★★★★★ | Intermediate |
| ★★★★ | Advanced |
| ★★★★ | Off-Piste |
| ★★★★ | Snowboarding |
| ★★★★ | Snow Reliability |
| ★★★★ | Extent |
| ★★★ | Apres-Ski |
| ★★★ | Mountain Restaurants |
| ★★★★ | Scenery |
| ★★★ | Village Charm |
| ★★★ | Non-Skiers |
| | |
| --- | --- |
| Ski Lifts | 62 |
| Resort Altitude | 1400m |
| Pistes | 250kms |
| Ski Range | 1350m – 2830m |
| Green Runs | 24 |
| Blue Runs | 28 |
| Red Runs | 37 |
| Black Runs | 13 |
The Slopes
Serre Chevalier slopes broadly fit into four main sectors above the villages from which they are accessed. Firstly the slopes of Le Monetier have some great blue and red runs through the trees that are not too difficult and intermediates of all abilities will enjoy them. For those seeking a harder challenge the quiet Tabuc black run must be tried.
At the base of Le Monetier slopes there are some nursery slopes providing a good base for beginners. Further towards the top of Le Monetier are some steeper runs and a great red run, Cucumelle that takes you to the Villeneuve sector. Unfortunately if you wish to ski to Villeneuve this red run is the only option and beginners or timid intermediates may wish to go by road instead.
At Villeneuve a variety of lifts serve all matter of terrain from easy green runs to tough blacks. At the top of Villeneuve are some tricky black runs and some decent blue and red runs that confident individuals will love to get stuck into. Lower down at the Mid Station Frejus there are some green runs for beginners to progress on to, including a green run that goes all the way back down to the village. Underneath the Casse de Boeuf chair is a super long black run of the same name that must be tried. At the base of Villenueve is another good beginners area.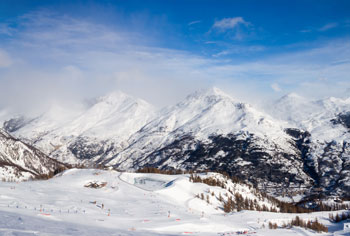 At Chantemerle a lift takes you up to the mid station at Serre Ratier where beginners will enjoy the green run all the way back down to the village. From Serre Ratier further chairlifts take you to the top of the peak where there are blue and red runs aplenty. Intermediates will be in their element here.
From Chantemerle the top of the final sector, Briancon, can be reached via the Prorel chairlift. At the top of Braincon there are several long blue and red runs. Lower down this sector red runs become more predominant and lead all the way down to the town of Briancon. From the town of Briancon swift gondolas take you back almost to the top of this sector. To get right to the top there are several other lifts.
Serre Chevalier is a resort set over four areas that really gives you a sense of exploration and travel. Coupled with the fact it has quality skiing for all levels and a considerable amount of wooded runs Serre Chevalier makes for a great mixed ability resort, one certainly worth checking out.
---
Apres-Ski
Here apres ski traditionally revolves around the local bars but as Serre Chevalier is split across four main resorts (Le Monêtier 1500, Villeneuve 1400, Chantemerle 1350 and Briançon's 1200), the nightlife is scattered and therefore doesn't become too lively in any one place.
There are several lively venues at each village location to keep you entertained, in Le Monêtier there is the Bar de l' Alpen which is British run and has live music and TV screens showing sport, there is also the bar in the Hotel Rif Blanc which again has a great atmosphere.
Villeneuve has Le Frog which is British run, La Grotte du Yetti with its live music, Loco Loco and also The White Hare Bar in the Hotel Liève Blanc, along with the nightclub La Baita. Chantemerle has Taverne de la Bière, the Extreme Bar and Ullivan, whilst Briançon has Eden, Spirit and the Central Bar.
---
Eating Out
There are plenty of dining out options across the resorts of Serre Chevalier, many serve traditional regional French cuisine along with pizzerias and creperies.
In Le Monêtier there is the Caribou and La Fruitiere which both serve traditional savoyard food, Maison Alliey in the Hotel Alliey is also an excellent choice, The Europe is more reasonably priced and the Brasera and Pizzaria des Neiges both do great pizzas.
In Villeneuve there are several good restaurants offering local French dishes such as La Marotte, La Pastorale and the Roc Noir. Le Mojo has an international flavour, Petit Pont has tasty steaks and for something lighter Grotte du Yetti does fry ups and burgers.
Chantemerle has the gourmet Le Crystal and the Mediterranean themed Le Triptyque, La Boule De Neige does delicious French cuisine, where La Cabassa is ideal for something quicker and lighter such as crepes or pizzas. In Briançon there is the Pied de la Gargouille which serves tasty open-fire grills, the Péché Gourmand is more reasonably priced and for mountain specialities then try the Lou Grand Caire.
---
Other Activities
If you fancy a day off from skiing or boarding then there is still plenty to occupy you.
If you have tired limbs and are looking for some special pampering then Le Monetier has Les Grands Bains du Monetier. A large, thermal spa complex with natural hot springs and spa facilities - saunas, steam rooms, a jacuzzi and bubble beds, amongst others, it also has a range of beauty treatments. The Plein Sud in Chantemerle also has its own spa, as does the Spa Montagne in the Hotel Alliey with a range of massages and beauty treatments.
For something more energetic then there is a great ice driving circuit to try out, paragliding, ice climbing, snow kiting and snow shoeing amongst many are also on offer. Each of the main resorts also has a cinema and you can even try out piste basher driving.
If you are not staying in the 17th Century walled town of Briançon it is well worth a visit as it is not only a UNESCO World Heritage site but also the highest walled town in Europe. It also has some delightful traditional shops selling a range of local arts and crafts.
---
Ski School
There are plenty of ski schools operating in Serre Chevalier, the ESF (Ecole du Ski Francais) has a number of schools here - in each of the main 4 resorts. They teach both children and adults and all abilities, their group lessons start from €143 for 5 half days or €318 for 6 full days, and private lessons start from €282 for 1 hour per day for 6 days. They also do slalom ski tuition, handiski for disabled people and tandem ski. Check their meeting point on booking as it depends on which resort you stay in.
There is also the ESI (Ecole de Ski and Snowboard International), they offer alpine, carving, and off piste skiing, freestyle & backcountry snowboarding and ski touring and snow shoeing. Group lessons start from €155 for 2.5 hours per day for 5 days, private lessons start from €45 an hour. Again check the meeting point on booking as it does depend on which resort you are staying in.
New Generation also has a base in Serre Chevalier, run by British coach, Gavin Crosby, they do tuition for all levels and ages and also do off piste, guiding and personal coaching. Group lessons start from €169 for 2 hours per day for 5 days, private lessons start from €135 for 2 hours. Their meeting point is at the bottom of the BACHAS chairlift, next to the electronic piste map, in Le Monêtier les Bains.
Where to stay in Serre Chevalier, France