(1550m - 3550m)
High, snow sure, and forming the Espace Killy ski region (300 kms of slopes) with Val d'Isere, Tignes really does have everything a keen skier looks for. With guaranteed good snow and skiing all the year round Tignes has become a favourite amongst British skiers. The only drawback is the dreadful architecture which is a real eyesore. Get over that, however, and Tignes is one the best resorts the French Alps has to offer.
Great for…
Snow sure
Extensive area
Intermediates
Resort at a glance
| | |
| --- | --- |
| ★★★ | Beginner |
| ★★★★★ | Intermediate |
| ★★★★★ | Advanced |
| ★★★★★ | Off-Piste |
| ★★★★★ | Snowboarding |
| ★★★★★ | Snow Reliability |
| ★★★★★ | Extent |
| ★★★ | Apres-Ski |
| ★★★ | Mountain Restaurants |
| ★★★ | Scenery |
| ★★ | Village Charm |
| ★★★ | Non-Skiers |
| | |
| --- | --- |
| Ski Lifts | 47 |
| Resort Altitude | 2100m |
| Pistes | 150kms |
| Ski Range | 1550m – 3550m |
| Green Runs | 23 (area) |
| Blue Runs | 66 (area) |
| Red Runs | 40 (area) |
| Black Runs | 27 (area) |
| | |
| --- | --- |
| Local Lift Pass | – |
| Area Lift Pass | €235 |
| Transfer Time | Chambery 2hrs 15mins, Geneva 3hrs |
| Transfer Day | Saturday |
| Tourist Board | Website |
| Weather | Snow Report |
| Webcam | Webcam |
| Piste Map | Piste Map |
The Slopes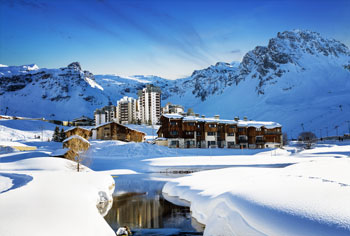 Tignes itself is made up of half a dozen or so smaller satellite villages, however most of the skiing and lifts are centred around Val Claret and Tignes le Lac.
From Val Claret lifts radiate east, south and west providing a variety of runs to suit all abilities. The Tichot chair accesses slopes to the west (Col Du Palet sector), with the subsequent Grattalu chair accessing the ski tranquille area where speed is restricted (and in theory marshalled). This is a good area for those fresh off the nursery slopes and the Grattalu blue run is wide and easy although often busy. There is also the snowpark for those searching for thrills. From here the blue Lac run and red Mereles run take you over to the slopes above Tignes le Lac.
The Grand Motte glacier to the south is accessed via a funicular from Val Claret or several chairlifts. The glacier generally has the best snow in the whole Espace-Killy area and must be visited by all intermediate skiers. From the mid station the Grand Motte cable car takes you to the top of the glacier, which consists of predominantly red runs (varying in difficulty) and the odd black. Whilst the snow is great be warned, you are high here and it can get incredibly cold. From the glacier the blue Genepy run and red double M run are wonderful long cruises that head down back to Val Claret, however they can also be very busy, especially double M.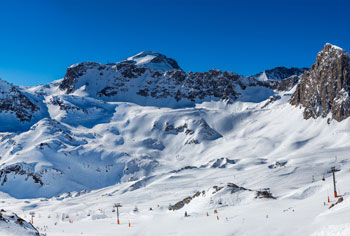 Finally from Val Claret the two links to Val d'Isere can be made. One of the links at the Col de Fresse is made via the Fresse chairlift. This is a great way for beginners to access Val d'Isere as this lift deposits you via a green run in one of Val's ski tranquille zones . There are however more challenging runs nearby on the Val side for those who are more adventurous. To return back to Tignes involves taking the blue Prariond run back down to Val Claret. The other link to Val d'Isere is at Toviere and involves the Tufs chairlift. Blue and red runs greet you on the Val side, whilst the return trip from Toviere to Val Claret involves a blue run.
The neighbouring village of Tignes le Lac serves slopes to the east and west. The Palafour chair takes you up right into the heart of the L'Aiguille Percee sector to the west of the village. There are long wonderful blue runs from here (Anemone and Combe) returning to Tignes le Lac. Alternatively take the Aiguille Percee chair to the top of this sector, to try out the long black runs Silene and Sache which lead down to the satellite villages of Tignes les Boisses and Tignes les Brevieres respectively. (Both these satellite villages can also be reached via a mixture of blue and red runs).
Heading east out of Tignes le Lac the Aeroski gondola takes you to Toviere, one of the two links to Val d'Isere as mentioned earlier. For those heading back to Tignes le Lac from Toviere you have the option of either the black Trolles run or the Aeroski gondola.
Both Val Claret and Tignes le Lac have suitable nursery slopes for first timers and those looking to progress should head for the ski tranquille area on the Col du Palet sector.
---
Apres-Ski
Tignes encompasses 4 villages with Val Claret (2100) and Le Lac (2100) right next to the slopes and Les Boisses (1850) and Les Brevieres (1550) further down where the original Tignes village was situated before the dam was built. Obviously the further down the mountain you come, the cheaper the options are for apres ski, and they do get quieter too.
There are plenty of apres ski options in Tignes depending on where you are staying.
Val Claret has the Crowded House, by the Tuffs chairlift, it's very popular and can get quite busy, they often have live music and DJs too. Also next to the slopes is the Drop Zone - again this is nice and busy with live music most nights and pool tables. Couloir has a vast range of different flavours of vodka along with serving mojitos and also a selection of whiskies, they also have live music. French bar Le Studio has a stylish ambience, Dutch bar Veronica's Snowcafe is very lively with dancing on tables and then there is Grizzly's Bar - expensive but ornately decorated and definitely an alpine experience you won't want to miss around an open fire. If nightclubs are your scene then try the Melting Pot - which has a great selection of more up to date music - drum'n'bass and funk rather than eurocheese, then there is Blue Girl with plenty of europop and techno along with pole dancing.
Le Lac also has a range of apres ski options to choose from. There's the comfy Loop Bar which looks over the lake up to Grand Motte with pool tables, live music and sports shown on TV screens, the chic, funky Bagus Bar opposite the palafour chairlift with a range of cocktails, themed nights and live music. If cocktails are your thing then Alpaka is certainly worth visiting with a huge range of cocktails, shots and champagne nights along with sport shown at the weekends. The Grotte du Yeti is also worth a visit, it's a popular busy bar with live music and often has an apres ski barbecue. Jack's Club, situated within the bowling alley, specialises in music from the 70s, 80s and 90s so head on over there for a boogie dancing around a pole.
There are also some other options further down the mountain in Les Boisses and Les Brevieres, these are cheaper than their neighbours up the mountain and far quieter.
---
Eating Out
You'll find something in Tignes that caters for most tastes and budgets, it has quite a few well-run restaurants where you can eat good food that won't break the bank.
Having said that, if you want to try somewhere a little more expensive then Saint Jacques, in Val Claret needs to be on your list - the Belgian restaurant specialises in fish and seafood and also has set menus if you are trying to stick to a price, they also have fondues, raclettes along with some delicious meat dishes. Also in Val Claret is Le Caveau (The Cave), an underground restaurant with a fantastic atmosphere, the food here is sumptuous and well worth trying, they also have live blues music adding to the ambience.
For something a little lighter in price then try La Pignatta which is great for pizzas but also does a range of meat and pasta dishes, and Savoyarde specialities. Then for something lighter still Evolution 2 Cafe does burgers, paninis, salads and pasta, and Pizza 2000 does, yup you guessed it, pizzas! There is also a token kebab house in the resort - The Royal Kebab.
In Le Lac there is the charming Clin d'Oeil which has a delicious range of French cuisine to tempt your taste buds, then there is the Bagus Cafe - an upmarket, trendy restaurant offering everything from pizzas and pastas to Savoyarde specialities, some with an Asian or North African twist.
Then there is the more pricey restaurant in L'Arbina Hotel which is great for a treat or special event, the Alpaka Lodge does a great Sunday roast, The Rendezvous is reasonably priced with a range of steaks, pizzas and pasta and for something a little different then try Tignes Cuisine - a take away restaurant offering home cooked Asian food that can be spiced according to your taste buds.
---
Other Activities
Tignes is not really a place to stay if you are not a skier or boarder but there is still plenty to do if you fancy a day off or the weather closes in. If you are looking for something energetic then try glacier walking, visiting the ice caves, ice driving or even ice diving. Yes it sounds cold but you can explore the stunning ice formations that lie beneath the Lac de Tignes with an instructor guiding you.
Other activities in Tignes include helicopter trips around the Espace Killy, some even go as far as Mont Blanc, paragliding can be enjoyed too throughout the resort, along with husky rides where you can either sit back and enjoy the ride or try learning to drive the pack yourself.
For something a little quieter then there is a cinema and bowling alley or why not try the new Lagoon Centre for some R&R - it has a pool and sports complex offering various classes. If you are looking to be pampered then there is a wellness centre or try one of the hotel spas - there's a great spa at the Village Montana (Le Lac), another at Les Campagnules (Le Lac) or the Centre Spas et Beauté Montagne (Val Claret).
---
Ski School
The local French ski school the ESF (École du Ski Français) has several schools in the different resorts of Tignes and offer skiing and boarding lessons for all levels. Group lessons start from €145 for 6 half days, and private lessons from €47 per hour. Check your meeting point on booking as it depends on which base you are starting from.
There is also the British run New Generation Ski School which again offer lessons to all abilities and levels. Group lessons start from €189 for 2 hours per day for 5 days, private lessons start from €165 for 2 hours. Their meeting point is in Tignes le Lac in between the Maison de Tignes (tourist office) and the Aero ski gondola.
Evolution 2 also have English speaking instructors, and offer private or group lessons to all levels. Group lessons start from €155 for 3 hours per day for 5 days, private lessons start from €50 an hour. They have a base in Val Claret and Le Lac so do check your meeting point on booking.
Where to stay in Tignes, France