(1800m - 3303m)
Surrounded by stunning scenery and runs spread over 3 distinct ski areas (totalling 350kms of pistes) St Moritz is a resort everyone should visit at least once in their lifetime. St Moritz itself is spread over two mini resorts; St Moritz Dorf and St Moritz Bad which give access to the Corviglia area. The Piz Corvatsch slopes are located above the village of Surlej a few miles away. Finally St Moritz's final ski area, Diavolezza is a 45 minute car journey away.
Great for…
Non-skiers
Intermediates
Advanced
Resort at a glance
| | |
| --- | --- |
| ★★ | Beginner |
| ★★★★ | Intermediate |
| ★★★★ | Advanced |
| ★★★ | Off-Piste |
| ★★★★ | Snowboarding |
| ★★★★ | Snow Reliability |
| ★★★ | Extent |
| ★★★ | Apres-Ski |
| ★★★ | Mountain Restaurants |
| ★★★★ | Scenery |
| ★★ | Village Charm |
| ★★★★★ | Non-Skiers |
| | |
| --- | --- |
| Ski Lifts | 56 (area) |
| Resort Altitude | 1856m |
| Pistes | 80kms |
| Ski Range | 1800m – 3303m |
| Green Runs | – |
| Blue Runs | 18 |
| Red Runs | 16 |
| Black Runs | 9 |
| | |
| --- | --- |
| Local Lift Pass | CHF 365 |
| Area Lift Pass | – |
| Transfer Time | Zurich 3hrs 45mins |
| Transfer Day | Saturday and Sunday |
| Tourist Board | Website |
| Weather | Snow Report |
| Webcam | Webcam |
| Piste Map | Piste Map |
The Slopes
The first ski area Corviglia is reached either by funicular from St Moritz Dorf of by cable car from St Moritz Bad. At Corviglia there are some long cruisey red and blue runs that intermediates will relish with blue runs taking you back to both St Moritz Dorf and St Moritz Bad. The beginner slopes are also found in this area at Salastrains.
From Corviglia the Marguns sector can be accessed. Here the runs also comprise of mainly red and blue slopes however they tend to be shorter and slightly harder and thus more suited to more adventurous intermediates. From Marguns a long sweeping red which must be tried goes all the way down to the village of Celerina. From Celerina a gondola whisks you back up to Marguns, from where you can make you way back to both St Moritz Dorf and St Moritz Bad.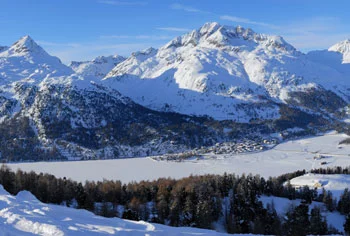 A short bus drive away is the village of Surlej  where a cable car provides access to St Moritz's second ski area. The cable car whisks you up to Murtel which is the central hub of this area. From Murtel you can head to the glacial area Corvatsch, where there are several tough long red runs which are definitely worth trying, especially if you are on the slightly adventurous side. At the bottom of these red runs a short lift takes you to Giand d'Alva where a long black run, Hahnensee heads back down to St Moritz Bad.
Whilst this is not the hardest black run in the world, this is the only run that goes directly back to St Moritz. If you don't fancy taking this red then you will need to head back to St Moritz from Surlej by car / bus. From Murtel several more long red runs head down to Alp Margun and the village of Surlej. From Alp Margun a combination of lift and red runs take you to the Furtschellas area. This area is the most varied of the lot and has something for everyone including Blue, red and black runs.
The third area is Diavolezza and is the smallest and quietest of the 3 areas. Here the terrain is generally more challenging and is ideal for strong intermediates. If you have a car this area is certainly worth checking out.
---
Apres-Ski
There is a wide range of different apres ski options in St Moritz, many tend to be upmarket too and things are lively.
Starting off gentle there is the well known Hanselmann Tea room which has a delicious selection of cakes and pastries, tea and hot chocolate to tempt you at the end of the day.
The Enoteca la Vigna offers a quieter evening venue with a good selection of wines and the bar in the Hotel Albana is also a good place to go if you are looking for something relaxing, the Piano Bar in the Hotel Schweizerhof is very civilised and has a great range of cocktails on offer and you can also try out The Diamond Lounge or Pavarotti & Friends.
Lively venues include the Roo Bar, Bobby's Club, The Cresta and the Cava Bar, there is also the Stübli in the Hotel Schweizerhof with loud music too. For a dance then do try the King's Club at the Badrutt's Palace Hotel but you do have to dress smartly with a jacket and tie and the prices reflect that, another venue to try is the Vivai in the Hotel Steffani which also has live music and DJs.
For something a bit different, and a bit stronger then visit The Devil's Place in the Hotel Waldhaus am See, which claims to have the worlds largest selection of whiskies on offer.
---
Eating Out
St Moritz has a wide range of restaurants with cuisine range from local specialities, French, Italian, Chinese, Thai and even Greek but do be aware prices can be expensive and places can be very swanky.
More gourmet (and very expensive) restaurants include Jöhri's Talvo with 2 Michelin stars in an old hayloft, the Chesa Veglia in The Badrutt's Palace Hotel with its French Swiss cuisine, also at The Badrutt's Palace Hotel is Le Relais. Nearby there is the Chesa Pirani, again with 2 Michelin stars in the village of La Punt, the Kronenstübli in Pontresina and Murtaröl in Plaun da Lej with its fresh fish menu.
More reasonably priced options include the Engadin, the Lapin Bleu, the Acla, and the restaurant in the Cascade, also the Hotel Laudinella has 6 restaurants serving a variety of different cuisine including Thai, pizzas, pastas, fondue and raclette.
Italian can be sampled at The Bella Vista which serves pastas and wood fired pizzas, the Veltlinerkeller and Bellaval are also good for pasta too and fondue or raclette can be found at Le Carnotzet in St Moritz Bad.
---
Other Activities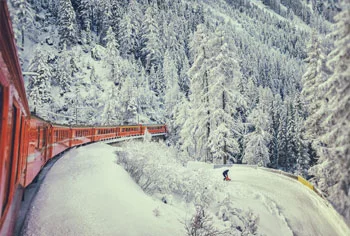 There is a huge amount to do in St Moritz if you are wanting a day off from skiing or boarding. The frozen lake is used for polo, cricket and winter golf, along with horse and greyhound racing. St. Moritz has also hosted the Winter Olympics, the Alpine Skiing World Championships and the Cartier Polo World Cup on Snow which is played on the frozen lake.
There is also The Cresta Run - the world's first bobsleigh run where you have the opportunity to try a race with a guide. There is also tobogganing too for something slightly sedater. You can also try snow shoeing, ice skating, curling and hang gliding in resort, it even has a casino if you are looking to stay indoors.
There is also plenty of shopping on offer, designer boutiques such as Bulgari, Hermes, Prada, Rolex, Cartier, Dolce & Gabbana and Louis Vuitton are here in resort to name but a few. Pampering can then continue at the health spa and for something a little different, why not take the Bernina Express train to Italy.
---
Ski School
There are a few ski and snowboarding schools in St Moritz offering a variety of tuition to all ages and abilities.
The Swiss Ski School offers group and private lessons and also does freestyle too, group lessons start from CHF 120 for 3 hours in one day with 3 hours for 3 days from CHF 280, private lessons start from CHF 100 for 1 hour, 4 hours starts from CHF 370.
Suvretta Snowsports offer private lessons in skiing and boarding along with telemark and freestyle, prices start from CHF 80 per hour, with 5 hours from CHF 370. They also do a racing club and heli skiing week too.
Where to stay in St Moritz, Switzerland