A lot of the skiing resorts have their own apps these days and we all get excited with new phone and tablet goodies, so we've chosen a few apps with a difference to keep you entertained. Check out our top 5 to keep you occupied on and off the slopes.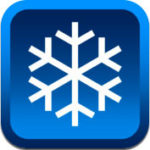 At only £0.69, the Ski Tracks app is a cool tool. Apparently it's 'one of the most downloaded ski apps in the world' and will track your progress throughout the day on your iPhone, recording everything from your maximum and average speed, ski distance, ski vertical, altitude, runs, slope angle, duration of the time you've skiied and you can even upload photos. It's a great app as it doesn't need a phone signal and can record for up to 14 hours and is very battery efficient, it's also linked in to Google Earth so you can see a map and get a real sense of where you've been.
Ski Club of Great Britain Snow Report App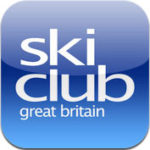 We love free apps, especially if they're useful and the Ski Club of Great Britain Snow Report app really is great. It has snow reports for all of the major ski resorts showing the current weather, the last snow date, snow amount on both the upper and lower slopes, conditions on the piste and even the number of lifts that are open. It also has web cams, ski resort news and you can save your favourite resorts for quick and easy snow report information the next time you need it.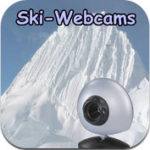 Another fantastic free app and again a really useful one. The Ski Webcams app allows you to view web cams from around the world and you can select them by region and resort – there are over 600 ski resorts worldwide to choose from giving you up to date information on the snow conditions and of course the weather. Many of the web cams are in HD giving you crisp, detailed vantage points of what's happening on the slopes.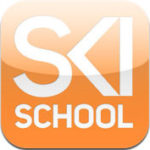 The Ski School app comes in at £2.99 and offers 'a series of apps that will help all levels of skier develop and improve their ski technique with a series of simple, effective lessons.'There is a different app for every level of skiier – beginners, intermediates and advanced and each one has simple, easy to understand, specifically designed lessons and videos helping you to progress to the next level. You can even film yourself and compare your style with that of the video demos. There is even a Lite version that's free if you want to try it out before you have the full experience.
Now we all love a game to while away the hours but this one is also free! The World Winter Games app allows you to 'compete for the World Record in 24 winter sports events in 14 locations' – everywhere from the USA, Europe, Japan and even Nepal. You can try and win some medals as you go on everything from bobsled, ski jumping, snowboard slalom, freeride and the halfpipe, through to downhill skiing including the slalom and Super G. It's exhausting just thinking about it!
So, let us know what apps have you seen lately that need a second or third look.